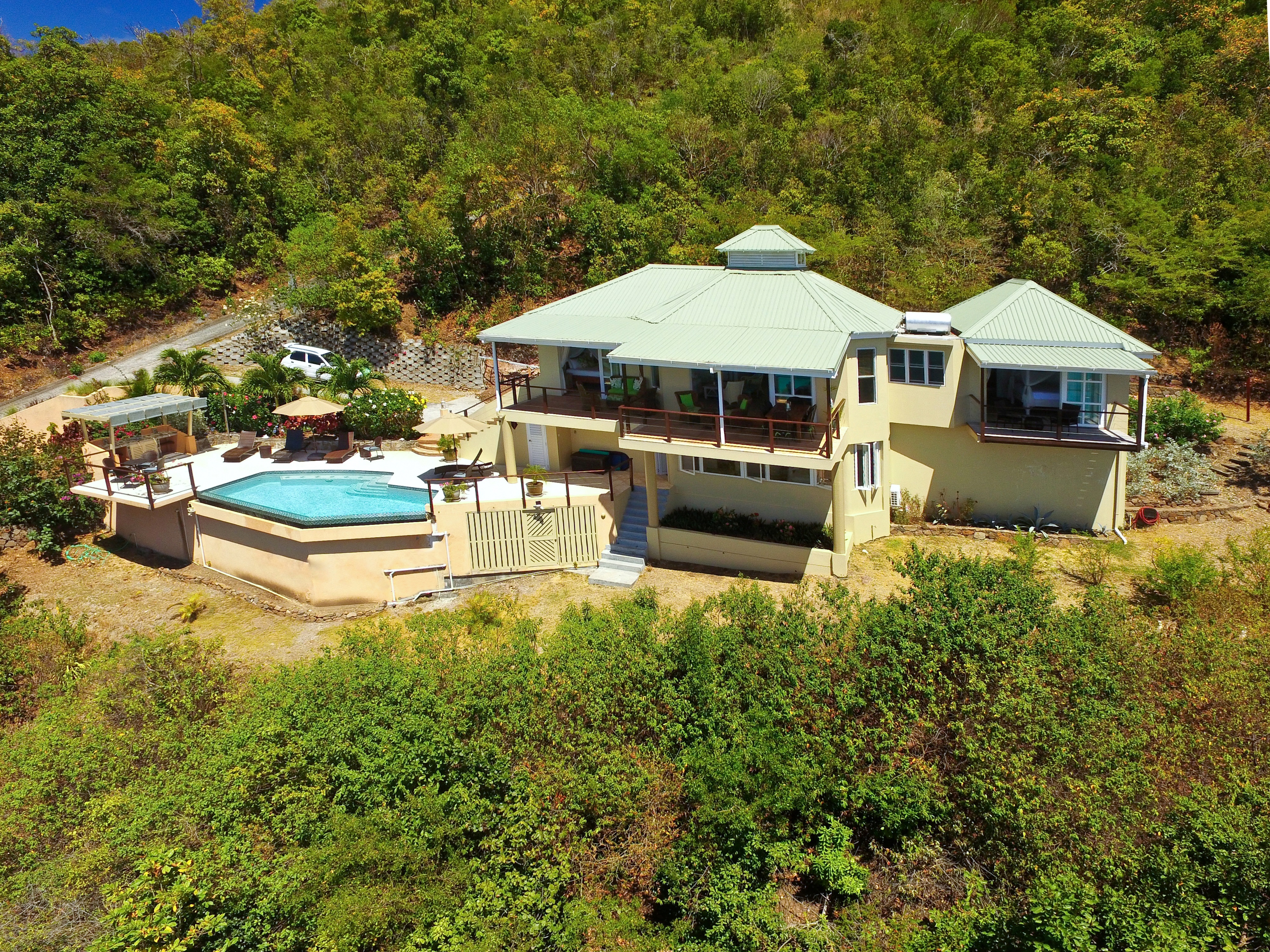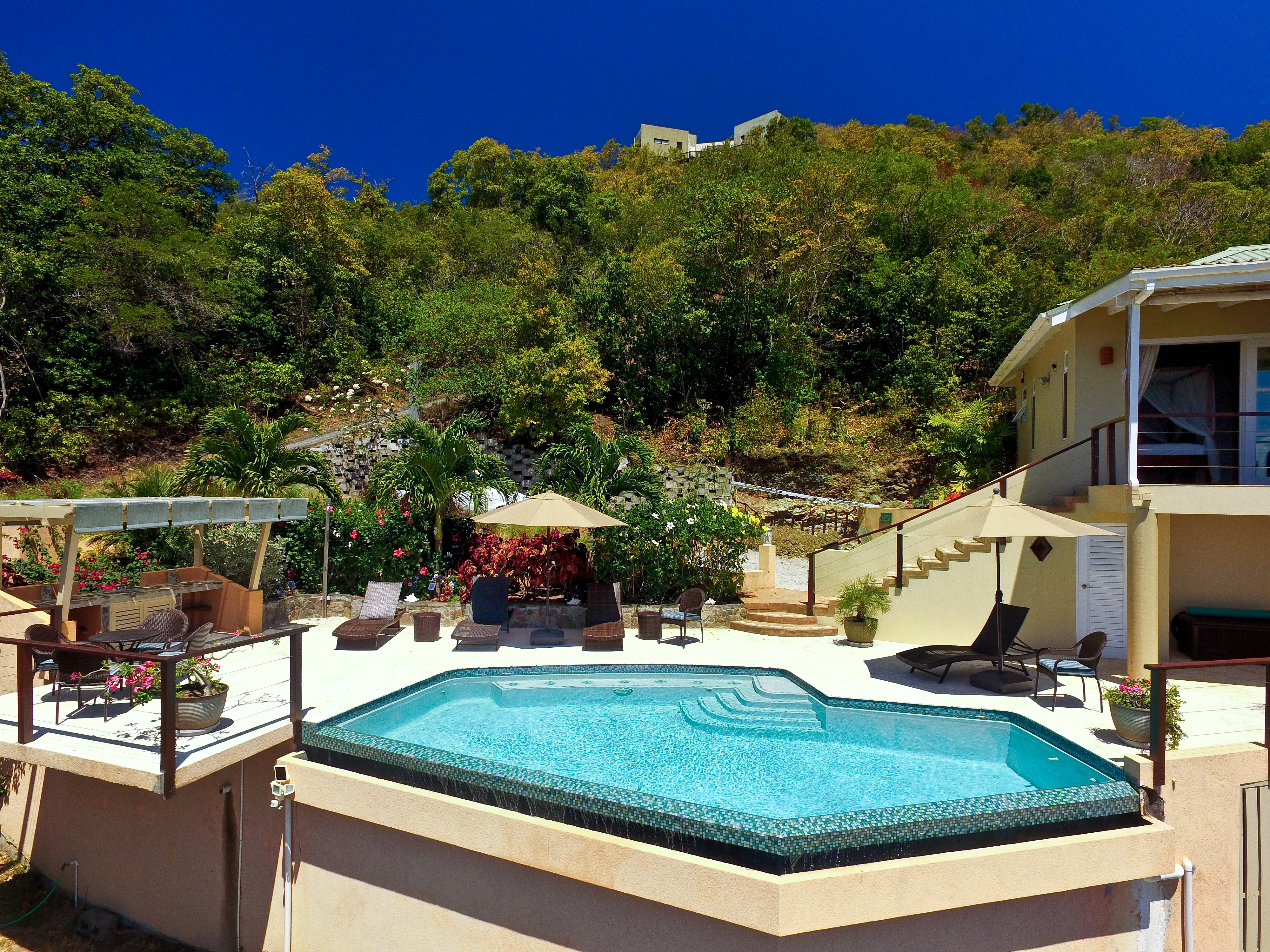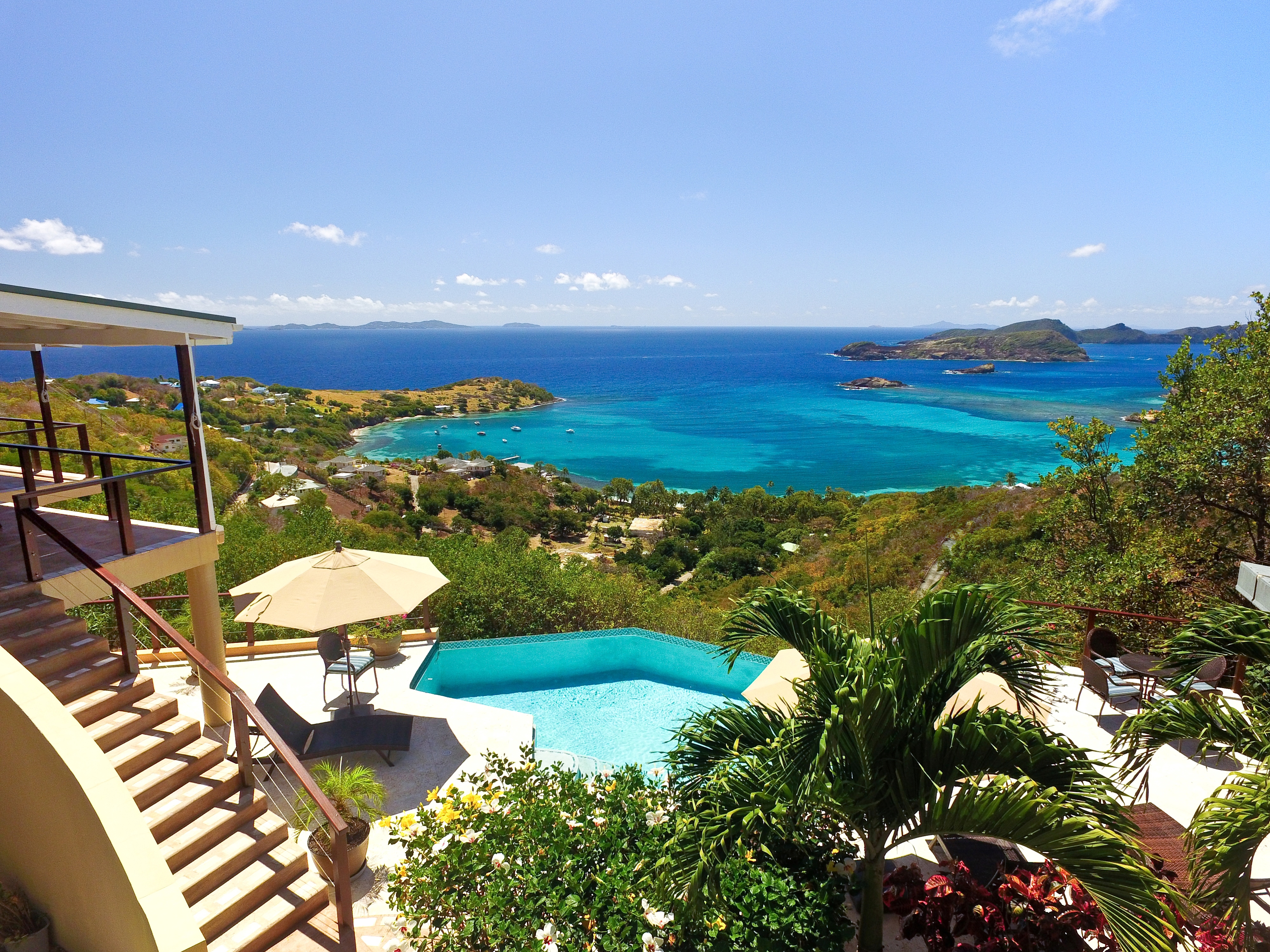 At Last, completed in 2018, is located on a hillside at Friendship Grove, overlooking Friendship Bay. Vistas await as you take in the breathtaking and dynamic views of breaking seas onto reefs, the bordering islands, and the Southern Grenadine Islands of Mustique, Canouan and Union Island. The property is well set back from the road affording on-site parking for 4 cars, is beautifully landscaped and includes an enclosed garage.
The three bedroom, three and one-half bath home has an inviting open floor plan perfectly proportioned with plenty of space for entertaining in the Great Room, and on the outdoor covered veranda and pool patio. The home was thoughtfully designed with all floor tiles and accent tiles imported in beautiful, soothing shades of blues and greens. Pottery from Barbados and Bequia for outdoor and indoor sconces hanging pendants, and bathroom sinks brighten the décor.
LAYOUT
 Upper Level:
The upper level is comprised of a combined large living area, indoor dining for six and kitchen. There is a laundry room outfitted with a cabinet and sink, washer and dryer. All ceilings are light and airy pickled wood. The Great Room's ceiling soars 19 ft. to the top of the cupola with a large fan. Triple doors expand over a 13-foot opening to the veranda.
The kitchen is equipped with a Whirlpool stainless French-door refrigerator, gas cooktop/oven and microwave. Spacious lower cabinets, white quartz counters and beautiful herringbone mosaic tile backsplash in shades of blue with open upper shelving make the area light and open. Step-out the large, 8-foot tall, mahogany wood pivot door to the back of the home to a gas grill on a custom-built wood stand for outdoor grilling. There is a laundry room outfitted with shelving, cabinet, sink, washer and dryer.
The Master Bedroom is accessed by passing a built-in desk area with windows to the view and a large owner's storage room with shelving and hanging space.
The owner's suite enjoys a 14-foot-high ceiling, ceiling fan and A/C. The room has an 11-foot three-paneled sliding door opening to its own private balcony to enjoy that late evening aperitif before retiring. The room has a an expertly crafted, pickled wood, King-size, four poster bed. A large six-drawer dresser and bedside table complete the room. The ensuite bathroom is light and airy with a glass-covered open shower and ceiling fan. A closet and shelving complete the bath area.
 A lovely and inviting guest bedroom is on the opposite side of the Great Room with an ensuite bath with ceiling fan and a three-paneled sliding door to the veranda. This room also has high ceilings, king-sized four poster bed, closets and drawer storage. A ceiling fan and A/C complete the room. The bathroom can be available to dinner guests by closing off the door to the bedroom.
The covered balcony with colored concrete has a custom-built dining table to seat six and lovely all-weather, cushioned furniture and Sunbrella shades. A staircase leads to the pool and lower level.
Lower Level:
A large third bedroom takes in the gorgeous view the entire length of the room. The bedroom has a an ensuite bathroom with ceiling fan, bedroom ceiling fan and A/C, built-in cabinetry and king-sized four poster bed.
The Pool and Deck Area:
The pool decking is beautiful coral stone that is easy on the feet in the sun. Step into a lovely, 24'-6" long and approximately 11 ft. wide Infinity Edge Saltwater pool accented with lovely mosaic tile and enhanced with a built-in bench to sit, relax and enjoy the fantastic view. An outdoor pergola threaded with Sunbrella shading on the end of the pool deck has a stone counter, sink, cabinet and decorative light sconces. A pebble stone, outdoor shower is adjacent to the pergola. A pool level toilet room is also available for guests.
Area Size:
Land Area 20,397 S.F.
First Floor
Including covered balconies 1900 S.F.
Ground Floor (Third bedroom &
Garage 585 S.F.
Water Cistern 460 S.F. (24,000 US gallons)
Open Pool deck 743 S.F.
Swimming Pool 9,000 US gallons
Lower Ground Floor
(Pump Room) 110 S.F.
Total Built Area (excluding
Walkways, Driveway and
Park area) 3,930 S.F.